Fundraising Events
See below for any upcoming events
Purchase a ticket to this year's Angel-Paws annual charity auction!
All funds raised go towards supporting Angel-Paws and help us save the lives of the animals who pass through our doors.
This year's auction will be hosted on the 1st of November from 6-10 PM by The Met on Palmer Street, South Townsville.
Ticket includes a complimentary drink and cocktail nibbles with goodie bags given until we run out so get in quick to secure your suprise treats!
This year's theme is 'Halloween' so keep your outfit from Hallows Eve on until the next evening for a chance to win the prize of best dressed!
If you don't want to dress up, but still want to win a prize, we understand that too! There will be a lucky door prize drawn during the evening for the lucky person who walks in at just the right time.
What are you waiting for? Buy a ticket now to secure your spot for an evening of tricks, treats and animal themed evening beats (music).
Tickets can be purchased here
*Tickets are limited and the event may be sold out at anytime so secure you spot now for future fun!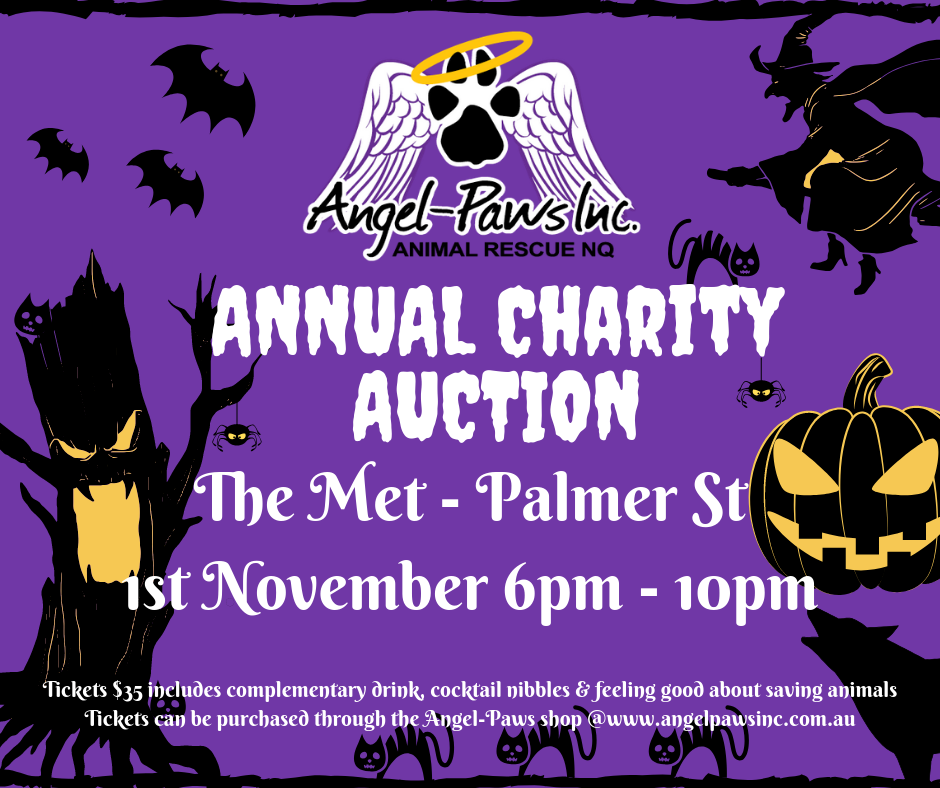 Pups & Prosecco @ The Met
For a fun filled afternoon, make sure to head down to The Met on Palmer St for Pups & Prosecco. Grab a glass of bubbles and say g'day to some of the gorgeous pups up for adoption. There will be a mega raffle being held with 10 different prizes up for grabs. Star 106.3 will be hosting a Pooch Parade so bring your own puppa aong (just make sure to bring your own poop bags and ensure your pooch is well behaved!)
Kicking off at 3pm Sunday 27th October, this event is gearing up to be heaps of fun! To find out more pop over to the event on Facebook https://www.facebook.com/events/510342269788457/